Hand Print Lillies
Idea by The Trendy Tree House Blog
Paper Plate Flowers with Cupcake Liners
Idea From Bender Party Blog
Idea by Getallergywise.blog
http://getallergywise.blogspot.com/2011/05/homemade-flower-cards-for-mom-for-even.html
Paper Flowers with Pom Poms
Idea by SheKnows.com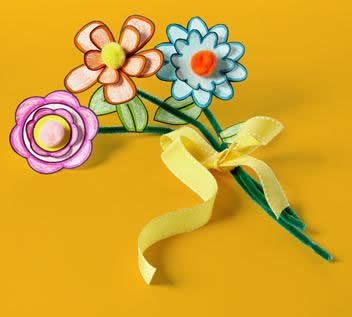 http://www.sheknows.com/holidays-and-seasons/articles/808523/mother-s-day-crafts-for-kids-ages-four-to-eight/page:2
Tissue Paper Wrinkle Flowers
Idea by Craft Jr.com
http://www.craftjr.com/spring-tissue-paper-flowers/
Cupcake Liner Flower Garden
Idea by Craft Jewish Mom
http://www.creativejewishmom.com/2010/05/a-field-of-cupcake-liner-flowers-for-shavous.html
Create a Flower Banner
Idea by Ziggityzoom.com
http://www.ziggityzoom.com/content/spring-diy-craft-projects-families-kids
Painted Flowers
Idea by Lakeshore Learning .com
http://www.lakeshorelearning.com/general_content/free_resources/teachers_corner/projects/springBouquet.jsp?f=seasonal
Recycle Flowers
Idea by Pitter Patter in Seattle Blog
http://pitter-patterinseattle.blogspot.com/2011/04/test-post.html
Colorful Flower Blossoms
Idea by Jeannewinters.com
http://www.jeannewinters.com/2011/03/spring-break-kids-craft-project.html
3-D Flowers
Idea by Kinderteacher.com
http://www.kinderteacher.com/JuneFavIdeas.htm
Paper Daisy Flowers
Idea by Delightful Learning Blog
http://delightfullearning.blogspot.com/2011/05/madeline-fiar.html
Spring Blossoms
Ideas by Inner Child Fun.com
http://innerchildfun.com/2011/03/colorful-spring-branch-craft.html
http://innerchildfun.com/2011/04/how-to-make-your-own-sunshine.html
http://innerchildfun.com/2010/03/flower-prints-from-soda-bottles.html
3-D Tulip Flower Art
Idea by A Glimpse Inside Blog .com
http://www.aglimpseinsideblog.com/2011/03/3d-tulip-art-tutorial.html
Fingerprint Spring Flowers
Idea by The Idea Box Blog
http://theideaboxcom.blogspot.com/2010/04/fingerprint-spring-flowers.html
Idea by: Meet The Dubiens .com
http://www.meetthedubiens.com/search/label/spring%20crafts%2Factivitie

s
EGG CARTON FLOWERS
Idea by Artist Helping Children .org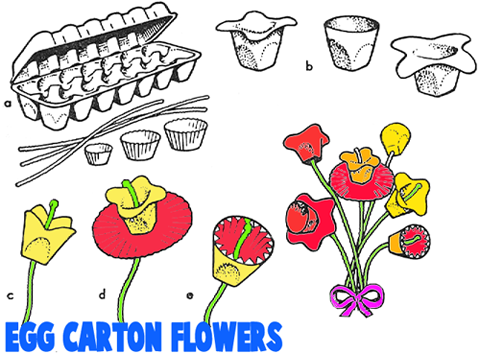 http://www.artistshelpingchildren.org/eggcartonsartscraftstideaskidsprojects.html
Ideas by Krafty Kat 76 Blog

http://kraftykat76.blogspot.com/2011/03/egg-carton-spring-wreath.html
http://kraftykat76.blogspot.com/2011/04/egg-carton-flower-garland-and-easter.html
Idea by Homemade Gifts Made Easy.com
http://www.homemade-gifts-made-easy.com/egg-carton-flowers-an-earth-friendly-flower-bouquet-for-mom.html
Idea by Crafts by Amanda .com
http://craftsbyamanda.com/2011/01/valentine-egg-carton-lollipop-flowers.html
Resource Sheets

FLOWER GARLAND
You will need cut flowers in bright colors(punch a hole in middle of flowers)Beads & Yarn. Have student using a piece of yarn, lace a flower, & then a bead repeat until garland is complete. For smaller kids use jumbo beads.
photo from: http://tlc.howstuffworks.com/family/may-day-crafts.htm
FLOWER TEMPLATES
Be Inspired by this Poster of Multi-Colored Flowers
Student can create their own unique flower
Great for door display or bulletin board (optional--add a photo of student in middle of flower, add a stem and a flower pot, add name with glue & glitter on flower pot)
Creative Teaching Press Cut-Outs
INSPIRATIONAL ART
Many Artist painted Flowers. Georgia O Keeffe painted BIG flowers. Use her artwork as an Inspiration for your students. Supply an extra large piece of construction paper (12x18) or piece of butcher paper, paint & paint brushes. Tell your student to Paint BIG!
Georgia O Keeffe
By Laugh Paint Create Blog
By Learning as We are Growing Blog

FLOWER FINGERPRINT MOTHER'S DAY CARD
Re-create this card in your classroom
Take Photos of Students--
Glue to the Front of a folded Construction Paper
Use student's fingerprints for pedals
By Crafts.slides.kaboose.com

http://crafts.slides.kaboose.com/336-spring-crafts/16
By Pebbles in my Pocket .com

http://www.pebblesinmypocket.com/2010/05/mothers-day-gift-idea-1.html
Create a Flower T-Shirt or Mini Tote Bag
Hand Print Flower Tote Bag
Flower Print Bell
By Easy Child Crafts. com
http://www.easy-child-crafts.com/recycled-crafts-for-kids.html
Blog Shore Society .com
http://familyfun.go.com/crafts/spring-bouquet-672228/
PLANTING
Bulletin Boards
http://bulletinboardideas.org/1160/april-showers-bring-may-flowers/
http://powayusd.sdcoe.k12.ca.us/teachers/ecupples/learn.htm
http://www.kinderteacher.com/JuneFavIdeas.htm
http://southamptoncrafts.blogspot.com/2010/05/goodbye-may.html
GARDEN SENSORY BOX
By Pig Tail and Tutus. Blog
By Share & Remember . blog



By Chasing Cherrios


Science on the Light Box: Oil and Water Revisited (with a little color theory)
By Test Yet Trying Blog

You can also use real flowers on light box to explore
Touchy Feely Board
By
The Letter 4 .com
BOOKS
Cupcake (Flower Theme)
http://www.thecupcakeblog.com/category/cookie-cupcakes/page/4/